How Does Thermography Work?
Whether residential or commercial, a building is not immune to anomalies or disasters. In any home or place of business, whether new or old, problems occur: insulation problems, issues with air or water infiltration, vermin, mold, etc. Furthermore, one may be unaware that any of these problems even exist. When buying a new house or a commercial building, the buyer's biggest fear is that there are hidden defects. If any unpleasant surprises or major anomalies occur, it is crucial to do business with a company that specializes in performing thermal inspections. This specialized inspection, carried out with an infrared thermal camera, will detect anomalies invisible to the naked eye.
A building inspection by our thermography experts will allow you to observe the extent of the anomaly's damage, as well as learn about its potential causes and corrective measures. A building inspection will allow you to carry out your future renovations, purchase, or sale of a building in an efficient manner. This precise and efficient method will save you time and money. We will be able to identify deficiencies, such as underground water leaks, that jeopardize the integrity and value of your real estate investment. The use of thermography will allow us to detect water leaks and any other anomalies that may be invisible to the naked eye.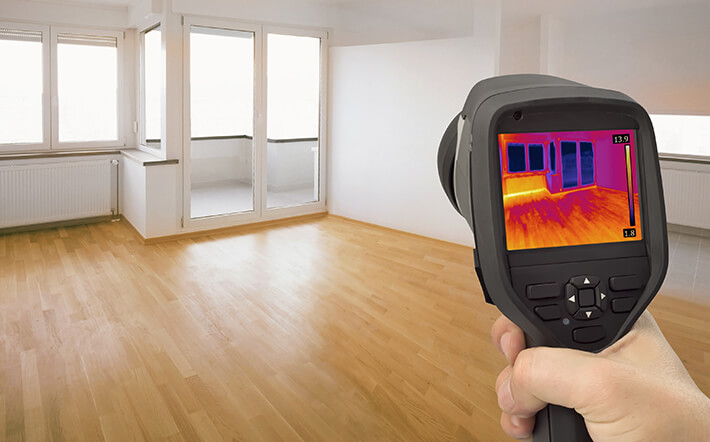 A thermography (infrared inspection) in the building carried out by a professional will allow you to know the exact time the problematic situation occurred or the general state of the building. It is an excellent inspection to perform pre-purchase or pre-sale. The report will allow the buyer or the seller to assess the real state of the house quickly and in a non-destructive way. An infrared thermographic camera inspection will detect anomalies that the building inspector cannot detect during a visual building inspection.
To detect anomalies that put at risk the integrity of your building's materials and its real estate value, we offer you the services of a thermal building inspection. Whether you are a building manager, a property management company, an individual, or a merchant, our expert services will satisfy your needs.
Our Services in Thermography Allow Us To:
Detect insulation failures (insulation inspection)

Detect air infiltration and exfiltration

Identify materials impregnated with humidity

Inspect for mold

Observe gas loss in high-performance windows

Identify the presence of insects (nests) and vermin

Detect electrical hazards

Detect poor construction quality

Verify the quality of the installation of radiant floors and ceilings (thermal analysis)

Check for hidden defects

Ensure the quality of the renovation or construction work

Identify thermal bridges

Detect mold (mold thermography)

Detect water infiltration (water infiltration thermography)

Detect the lack of insulation by thermal analysis and thermography of insulation